Kingyugi » Forums
Kingyugi, le site communautaire sur Yu-Gi-Oh! TCG, le jeu de cartes Yugioh. News, Cartes, Decks, Forums, Tournois, Reports,...
Vous n'êtes pas identifié.
Tenkuu no Abarenbou ! HawkGatling !
SJMP-JP005? - Performapal Gold Fang
le pote à Silver Claw


http://livedoor.blogimg.jp/maxut/imgs/0 … 1019-s.jpg

Performapal Gold Fang
Level 4 LIGHT Beast-Type Pendulum Effect Monster
ATK 1800
DEF 700
Pendulum Scale: 3
Pendulum Effect:
(1) Once per turn, if a "Performapal" monster you control destroys an opponent's monster in battle: inflict 1000 damage to the opponent.
Monster Effect:
(1) If this card is Normal or Special Summoned: all "Performapal" monsters you control gain 200 ATK until the end of this turn.
Dernière modification par Xerikas (13-07-2016 08:54:35)
---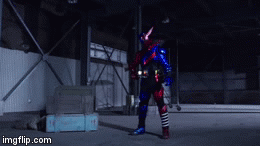 Tenkuu no Abarenbou ! HawkGatling !